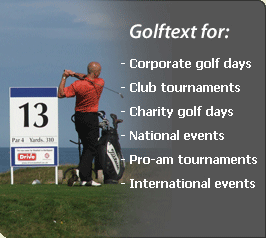 Are you planning a special golf day?
I would like to introduce you to Golftext, a company specialising in professional tournament leaderboards and on course signage, now available for daily hire throughout the UK, Portugal and Spain.
We recognise that all golf days are special and we believe that events should have a special visual presentation, which is crucial to creating the right impression and tournament arena.
Golftext can now offer you the "Professional Experience" that will guarantee to raise your tournament profile, ensuring a successful day for you and your guests.
Whether you're a golf organiser, golf club, small or national company we have the package to suit your event and budget. Your package can also be self funding, this is possible through business sponsorship, which in addition can generate further funds for your event.
Our dedicated and experienced team of staff will arrange, install, operate your chosen package and liaise with your key personnel during the event.
Over the following pages I'm sure you'll find on of our standard packages to suit your needs or, take a look at our "extras" and "leaderboard" pages to build your own tournament package.