Bryan joins Golftext, our first franchise partner.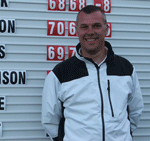 Mr.Bryan Ross joins Golftext, Bryan becomes our first franchise partner in the UK, mainly operating in the Tyne and Wear, Durham areas.
Bryan worked in IT for over 20 years in the role of IT manager but his real passion has always been golf. When the opportunity to join Golftext came along it was a fantastic chance for the change in career Bryan had been looking for. Bryan comes with a wealth of golf knowledge, playing golf for over 30 years and, even at the age of 42, still plays to a scratch handicap. Bryan is an active supporter of local amateur golf and still plays for club and county. He is a member of Heworth Golf Club where he is club champion and a valued member of the club's management and greens committees.
Bryan is a proud member of the Durham County Golf Union squad and has been ever present in the team for over 6 years ,representing Durham over 40 times and winning the Durham County Golf Union order of merit in 2007.
We wish to welcome Bryan to Golftext and will continue our ongoing support to ensure a profitable and excellent working environment for the future.